Kit Form Sheds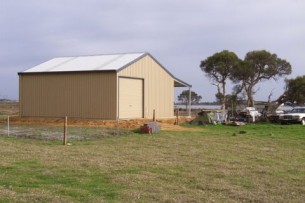 Approximately 10% of our shed sales are in the supply of shed kits. It offers the client ways to make substantial savings on the costs involved with their new venture.
We offer a full range of sheds in kit form that come with all Engineering documentation to meet your Local Council requirements, an informative and comprehensive installation manual, and installation demonstrations on DVD.
We also offer a backup assistance in the way of friendly advice to a Clients questions. We can arrange for the delivery of Shed kits to anywhere in the state, a shed that will meet with your local Region wind and Terrain Category ratings.
What do you need in the way of tools and equipment to take on a DIY Shed project.
Someone to lay your concrete slab to the required specifications supplied by us.
1 Chalk Line
Stable A Frame Ladder.
1 Set of Gilbow tin snips.
1 Socket Set.
1 Tek Screw gun.
1 Accurate Spirit Level.
4 Adjustable truck straps with ratchet tensioner.
1 String line.
1 Rivet Gun.
1 left hand and 1 right hand tin snips.
Electric Drill (with hammer mechanism) and 1 16mm masonry drill.
Screwdriver Set.
1 metric tape measure.
5″ Electric Grinder with steel cutting discs.
A good mate to give you a hand on things like placing of Roller Doors etc.
Safety equipment such as eye protection for any grinding work, work gloves for hand protection, appropriate footwear, and appropriate sun protection.
We do advise that if you have no aptitude for handy person type projects, it is not in your best interest to take on a project like this.